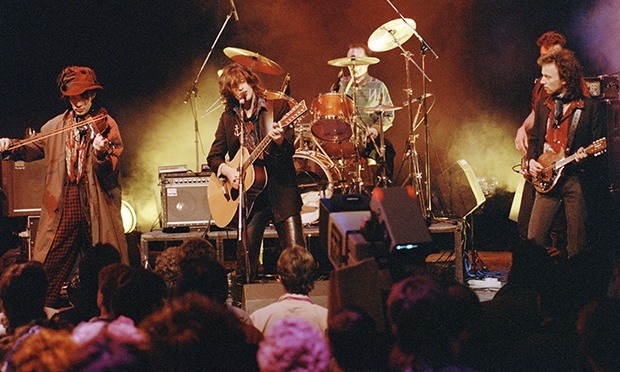 So occassionally life it gets in the way and this blog goes dead for a while. But I'm back now. I've added the promised FLAC links to the Bob Dylan post, and by way of apology I now present one of the best things you'll hear all year.
The Waterboys are an amazing band, with a sound that has changed quite a lot over the years. This pulls together their various sessions for the BBC, all in fantastic sound quality. The set mixes some of their well known hits, with lesser known tracks, some well chosen covers. For hardcore fans it's interesting to hear early versions of some tracks that went on to have quite different lyrics (check out This is the Sea). More casual fans should listen to some of their 'Big Music' - Don't Bang the Drum, Medicine Bow, Be My Enemy and This is the Sea.
They've just announced a new album and world tour. Last time they came their Hamer Hall show didn't sell that well, but hopefully that doesn't put them off from coming back and playing a slightly smaller venue.
The Three Day Man
I Will Not Follow
A Girl Called Johnny
All the Things She Gave Me
Savage Earth Heart
A Pagan Place
License to Kill
Red Army Blues
Passenger
Ways of Men
Trumpets
Old England
Sweet Thing
Medicine Bow
Born to be Together
Higher in Time
Spirit/When the Ship Comes In
Don't Bang the Drum
Medicine Bow
A Pagan Place
In Search of a Rose
Sharon's Tune
When Will We Be Married
And a Bang on the Ear
Something That is Gone
Glastonbury Song
When Ye Go Away
Open
Figherman's Blues
Vampire Man
Bring 'Em All In
Lonesome Old Wind
https://mega.co.nz/#F!QJF2AJxR!HvTUiFfPlnpJpBQvLhtxPQ